Luvkis 8.0" Horse Realistic Silicone Dildo
Luvkis 8.0" Horse Realistic Silicone Dildo
Powerful Suction Cup
Stick It Everywhere
Stick this stallion wherever your heart desires!
The Luvkis Divine Thrust Realistic Silicone Dildo boasts a mighty suction cup base, allowing you to effortlessly attach it to any smooth and flat surface.
From steamy showers to tantalizing wall encounters, this dildo sticks like glue, giving you the freedom to explore pleasure in every corner of your realm. Get ready for gravity-defying experiences that will leave you weak in the knees.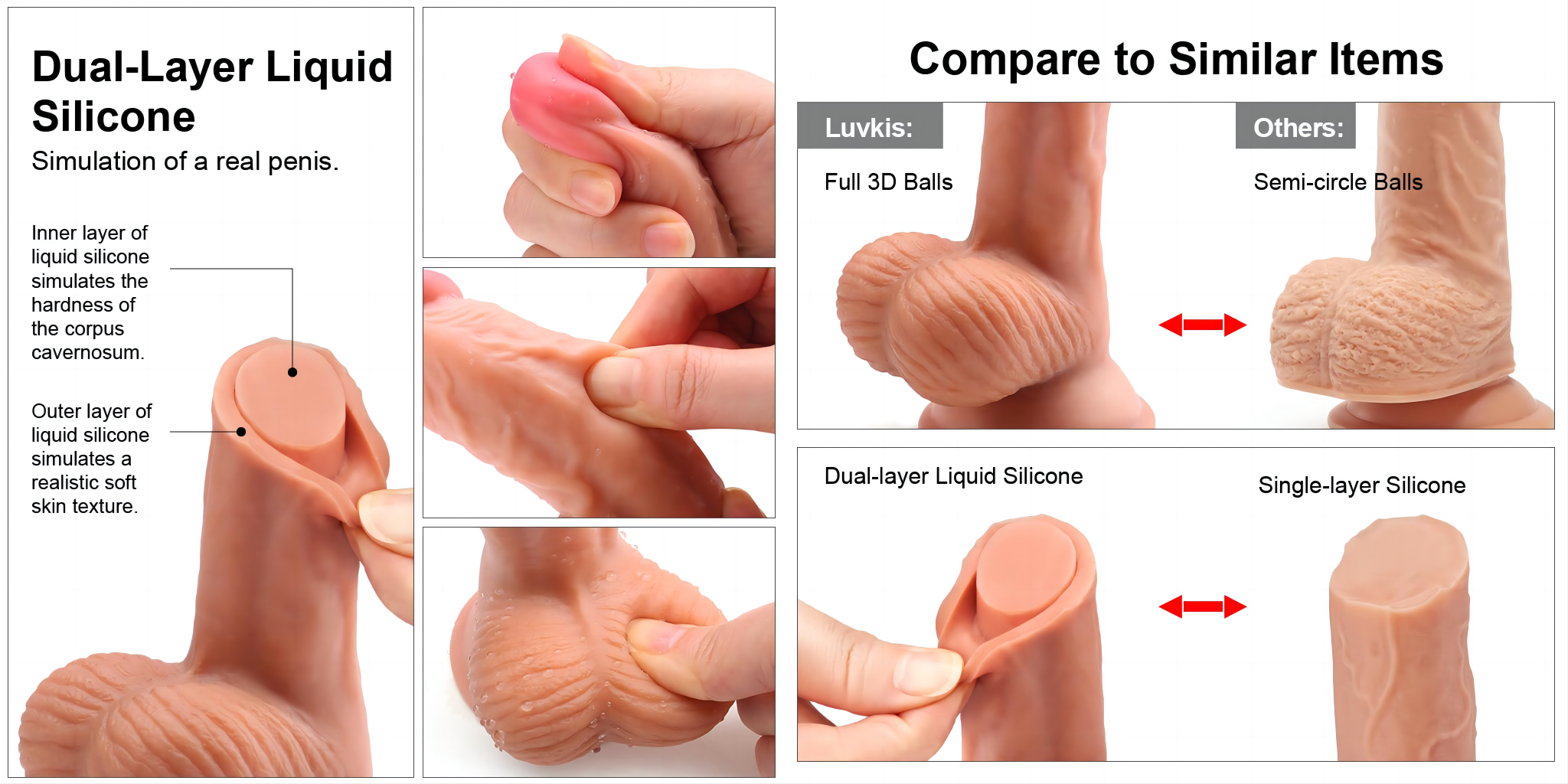 Realistic Dual-Layer Silicone
More Than Meets the Eye
Prepare to be mesmerized by the Luvkis dual-layer magic of the Divine Thrust Realistic Silicone Dildo. Crafted from premium liquid silicone, this majestic masterpiece features a firm inner core and a luxuriously soft outer layer.
With every thrust, its lifelike texture and authentic feel will transport you to a realm of mind-blowing pleasure. Not only does it look realistic, but it also feels utterly divine. Saddle up and let's explore the features that make this toy a must-have for any adventurous soul!
Odorless & Effortless Cleaning
No Stinky Business
Say goodbye to unpleasant odors and complicated cleaning rituals.
The Divine Thrust Realistic Silicone Dildo is made from top-quality liquid silicone that is odorless and super easy to clean. A quick rinse with water is all it takes to keep this stallion in tip-top shape. No need for soap or warm water—because cleaning should be as pleasurable as the experience itself.
Perfect Size for the Adventurous
Designed for the Brave
Calling all experienced adventurers! The Luvkis Divine Thrust Realistic Silicone Dildo boasts a formidable size with its 8" total length and 5.5" insertable size.
This majestic steed is specifically designed to satisfy those craving intense sensations and unforgettable encounters. However, we must note that this pleasure powerhouse is not recommended for beginners.
It's time to saddle up and experience the ride of a lifetime!
Lifelike Sensations
Every Detail Matters
Prepare to be enchanted by the intricate details and lifelike sensations of the Divine Thrust. Every vein, every curve, and every contour is meticulously designed to provide maximum stimulation and pleasure.
It's the little details that make the journey truly extraordinary.
Versatile and adaptable, the Divine Thrust is here to fulfill your every fantasy. Whether you're embarking on a solo adventure or inviting a partner to join the ride, this toy knows how to deliver mind-blowing pleasure.
Size Comparison: Multiple Options
Luvkis' artificial silicone dildo product line provides a variety of imitation silicone dildos in different materials, sizes, and skin colors, allowing you to choose from a variety of options and choose the size that best suits you. Our products are designed to meet the special needs of all groups of people.
Whether you're receiving your Luvkis products at home, at work, or even having them delivered to a friend's house, there will be no telltale signs of the sensual delights within. Choose Luvkis for a discreet & pleasurable shopping experience.
Strict Quality Certification
· At Luvkis Official Store, we prioritize your safety and satisfaction above all else. We are proud to assure you that our products undergo rigorous quality checks and hold complete certifications to guarantee their safety and reliability.
· Rest easy knowing that our products comply with the highest industry standards, including CE certification, ensuring they meet stringent requirements for health, safety, and environmental protection.
Maintain Strict Cleanliness Standards
· We adhere to strict production processes and follow standardized quality inspections to ensure that every item meets our rigorous standards.
· From the initial design phase to the manufacturing process, our products undergo thorough scrutiny to guarantee their performance, durability, and safety.
· With Luvkis, you can trust that every product has been crafted with meticulous attention to detail and upholds our unwavering commitment to quality.