Luvkis Handheld Magic Wand Massager Silicone G-Spot Clitoral Vibrator, Black
Luvkis Handheld Magic Wand Massager Silicone G-Spot Clitoral Vibrator, Black
12 Unique Vibrating Patterns
12 Unique Vibrating Patterns:
Indulge in a symphony of sensations with 12 distinct vibrating patterns. From gentle pulsations to intense vibrations, this vibrator offers a variety of rhythms to satisfy your desires and discover new realms of pleasure.
Long-lasting Battery Life:
Savor extended pleasure sessions with the long-lasting battery life of this vibrator. Charge it for a mere 2 hours and indulge in uninterrupted playtime, freeing you to explore your desires without interruption.
FDA Approverd Body-Safe Silicone
FDA Approverd Body-Safe Silicone:
Your safety and well-being are of utmost importance to us.
The 12 Speeds Vibrator Wand Massager is crafted with 100% body-safe, FDA-approved medical-grade silicone and non-toxic ABS materials, ensuring a comfortable and healthy experience.
Clean and dry your masturbation cup before and after each use. Clean with warm water and a mild soap. It is recommended to be used with water-based lube.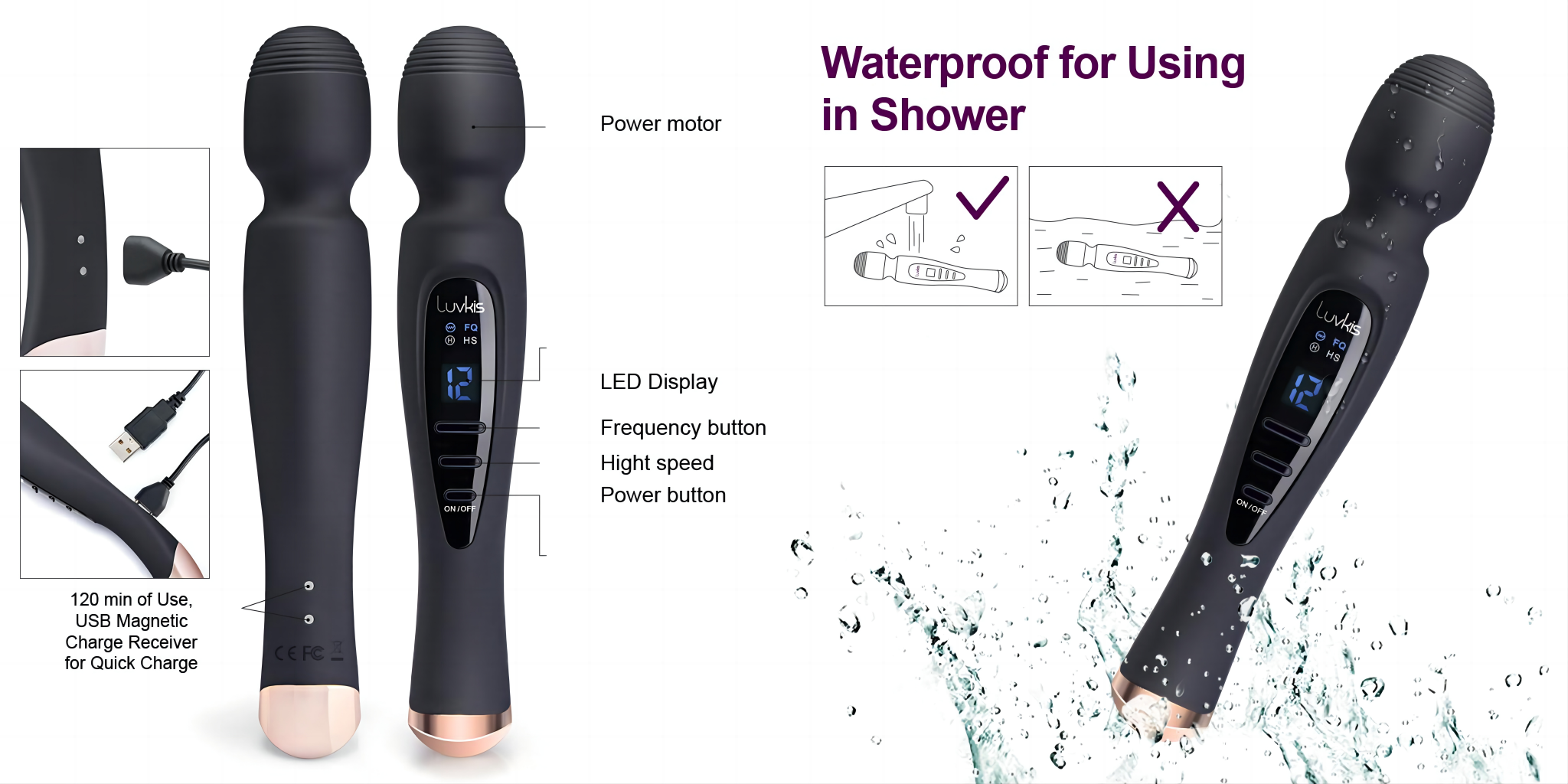 IPX6 Waterproof Grade
With its powerful yet quiet engine, it delivers an impressive 9000 vibrations per minute, providing comprehensive and deep massage sensations.
Whether you wish to enjoy your massager during a relaxing bath or indulge in aquatic delights, the IPX6 waterproof grade ensures the product's water resistance, allowing you to use it with confidence in wet environments.
Portable Size Easy to Carry
Easy to Carry:
Designed with portability in mind, the 12 Speeds Vibrator Wand Massager is compact and lightweight, allowing you to enjoy relaxation and pleasure anytime, anywhere. Slip it discreetly into your purse or pocket, allowing for spontaneous pleasure wherever and whenever the mood strikes.
Low Noise Operation: 
Unleash the power of pleasure with a strong yet whisper-quiet motor. Revel in intense vibrations without compromising your peace of mind, as this vibrator ensures discreet enjoyment.
Perfect for Massage & Masturbation
Exquisite Detail Craftsmanship:
Marvel at the exquisite detail craftsmanship that brings this vibrator to life. From its sleek contours to its precise texture, every aspect is thoughtfully designed to enhance stimulation and create a truly immersive experience.
Perfect for Body Massage and Masturbation: 
With its powerful yet quiet engine, it delivers an impressive 9000 vibrations per minute, providing comprehensive and deep massage sensations.
Strict Quality Certification
At Luvkis Official Store, we prioritize your safety and satisfaction above all else. We are proud to assure you that our products undergo rigorous quality checks and hold complete certifications to guarantee their safety and reliability.
Rest easy knowing that our products comply with the highest industry standards, including CE certification, ensuring they meet stringent requirements for health, safety, and environmental protection.
Strict Cleanliness Standards
We adhere to strict production processes and follow standardized quality inspections to ensure that every item meets our rigorous standards.
From the initial design phase to the manufacturing process, our products undergo thorough scrutiny to guarantee their performance, durability, and safety.
With Luvkis, you can trust that every product has been crafted with meticulous attention to detail and upholds our unwavering commitment to quality.